Stranger in London
7/14/2009 11:12:00 am
Nach anderthalb Monaten hier in London fühle ich mich nun endlich nicht mehr wie ein Fremdling. Natürlich ist es eine tolle Erfahrung in einem anderen Land füer eine Weile zu leben, aber es ist auch nicht immer einfach. In den ersten Tagen habe ich fast nichts verstanden und fühlte mich manchmal hilflos. Alles war so anders als ich es gewohnt war und ich hatte Hemmungen Englisch zu sprechen aus Angst Fehler zu machen. Aber glücklicherweise haben mir die Leute in meiner näheren Umgebung sehr geholfen, vor allem meine Mitbewohner. Sie haben mich mitgenommen wenn sie ausgegangen sind oder sich mit ihren Freunden getroffen haben und so wurde ich Teil eines tollen Freundeskreises.

After one and a half months here in London I don't feel like a stranger anymore. Of course it's a great experience to live in another country for some time, it's not always easy. The first days I understood nothing and felt sometimes helpless. Evertything was different from the things I was used to and I had inhibitions to speak English because I was afraid to make mistakes. But, luckily, the people in my environment helped me a lot, especially my house mates. They took me with them when they went out or met their friends and so I became a part of a great circle of friends.


Source
Ally, Liz (it's her birthday today!), me, Emma partying in a club in Soho
Heute ist es regnerisch draussen, aber das stört mich nicht - eine Mitbewohnerin wird heute 21 und wir werden das mit einem Abendessen und Cocktails feiern! Ich freue mich schon so darauf!
Today it's rainy outside, but I don't care - a house mate turns 21 today and we're going to celebrate that with a dinner and some cocktails! I so look forward to it!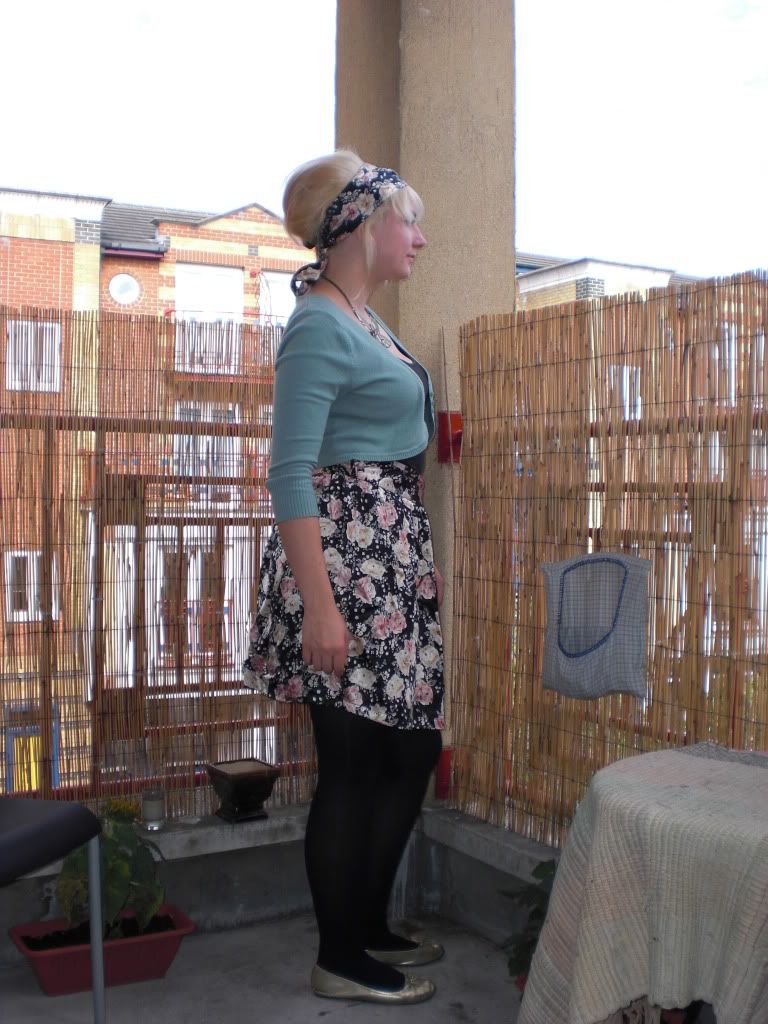 Ich habe keine Ahnung wann ich das letzte Mal ein Tuch in meinen Haaren getragen habe...ich glaube ich sollte das öfter tun!
I have no idea when I wore a scarf in my hair the last time - I think I should do that more often!
Scarf: the belt of the skirt
Top: H&M, a gift
Chain: Primark, 1,50 £
Bolero: H&M Augsburg, 9,90 €
Skirt: Primark, 4 £
Tights: Primark, 2 £
Flats: Orsay, 17,90 €