Luca
8/13/2009 02:40:00 pm
Gestern habe ich mich nach der Arbeit schon wieder mit meiner tollen Freundin Sarah (Hi Sarah!) auf einen Bananenmilchshake und einen Schokomuffin getroffen (das nenne ich ordentliches Abendbrot).
Wir sind zum Covent Garden gelaufen und haben da einem brillianten Straßensänger gelauscht: sein Name ist Luca und seine Stimme war so toll! Hier ist ein Bild von ihm:

Yesterday, after work, I met my lovely friend Sarah (Hi Sarah!) again for a banana milk shake and a chocolate muffin (that's what I call proper dinner).
We walked to Covent Garden and listened to a brilliant singer there: his name is Luca and his voice was so wonderful! Here's a picture of him: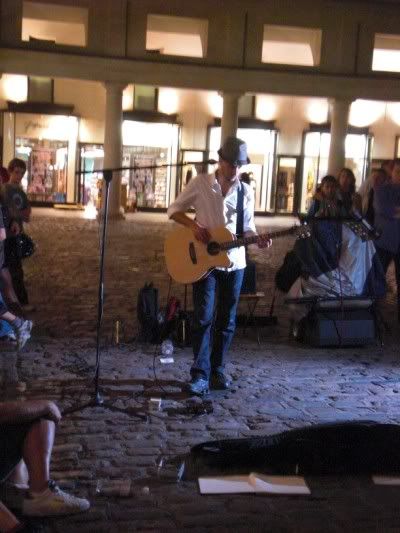 Ich habe wieder etwas sehr klassisches getragen, eine Freundin hat mir einmal gesagt, dass ich wie 'eine viktorianische Lehrerin' aussehe, wenn ich diese Bluse trage. Aha.

I wore something classy again, a friend of mine once said, when I wear this blouse, I look like 'a victorian teacher'. I see.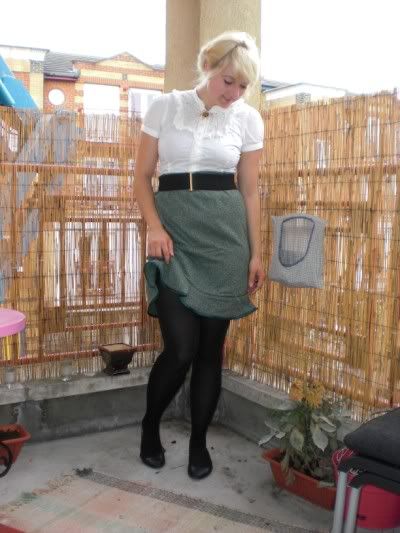 (Obviously I was too shy to look directly in the camera)

Blouse: H&M, 5 £
Brooch: Second Hand, 1 €
Flower (see post below): Primark, 1 £
Belt: H&M, 1 €
Skirt: Charity Shop, 1 £
Tights: H&M, 7,90 €
Ballerinas: Primark, 4 £