Hair Like A Housewife Of The Fiftie's
8/20/2009 10:58:00 am
Leider konnten wir "Inglourious Basterds" am Dienstag nicht sehen, das Kino in das wir gegangen sind zeigt ihn einfach nicht dienstags...stattdessen haben wir dann "The Time Traveller's Wife" geschaut - er war gut, aber nicht überragend.
Gestern habe ich Bike Polo ausprobiert (ich habe schon einmal davon berichtet) und es war sehr lustig! Leider hat niemand Bilder geschossen, sodass ich euch jetzt gar nichts zeigen kann.
Mein heutiges Outfit ist recht simpel: rot, weiß und schwarz (wahrscheinlich meine allerliebste Farbkombination).

Unfortunately we couldn't see "Inglourious Basterds" on tuesday, the cinema we went to just doesn't show it on tuesdays...so we watched "The Time Traveller's Wife" - it was good, but not brilliant.
Yesterday I tried bike polo (I told you about it) and it was really fun! Unfortunately nobody took pictures, so I can't show you anything.
Today's outfit is quite simple: red, white and black (maybe my favourite colour combination ever).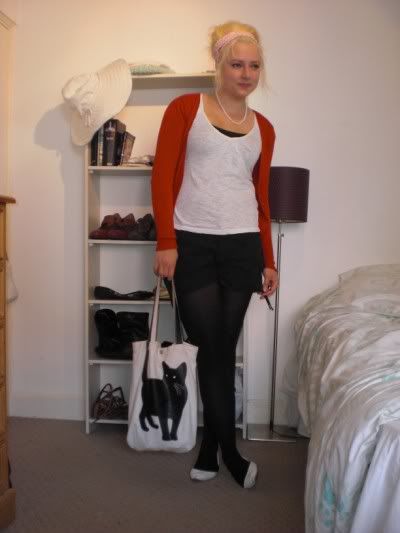 Scarf in the hair: Primark, 50p
Chain: Yves Rocher, a gift
Top: H&M, a gift
Shirt: Primark, £1
Shorts: atlantic fashion, £1
Tights: H&M, 7,90 €
Ballerinas: Primark, £4
Bag: H&M, 2 €

Heute abend gehe ich zu einer Party in der Brick Lane - es wird bestimmt toll! (wie ihr sehen könnt, nutze ich meine letzten beiden Wochen in London!)

Tonight I'm going to a party in Brick Lane - I'm sure it's gonna be fun! (as you can see, I definitely use my last two weeks in London well!)